Child Bible Lessons
Find LOTS of ideas for teaching Bible lessons to children.
Garden of Praise
Find TONS of resources & printables for multiple subject matters. GREAT Bible-based site!
Homeschool Creations
Find printables to coordinate with the Awana program.
Raising Rock Stars
A great resource for ideas as well as printables from 1+1+1=1 to help raise your little Rock Star!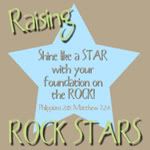 Homeschooled-kids.com
Features information for new homeschoolers, holiday unit studies, interactive kid's Bible study, discussion boards, free printables and more.
Happy Homeschool
Christian homeschool unit studies for multiple grade levels.
Calvary Chapel
Features 365 Bible story lesson plans with printables.
A Blessed Christmas
A Bible-based unit study of the symbols of Christmas.
The Names of Jesus
A unit study of the names of Jesus.
Dove Bible Lessons
Find free Bible-based character education lesson plans. Great resource!
A Kid's Heart
Find Christian games, printable Resources, and activities.
Danielle's Place
Find hundreds of Bible-based crafts and activities and complete Bible-based lessons.
Christian Preschool Printables
Excellent resource. Features free Bible coloring pages, Bible verse cards, lapbooks, and tons of fun Bible activities and games.